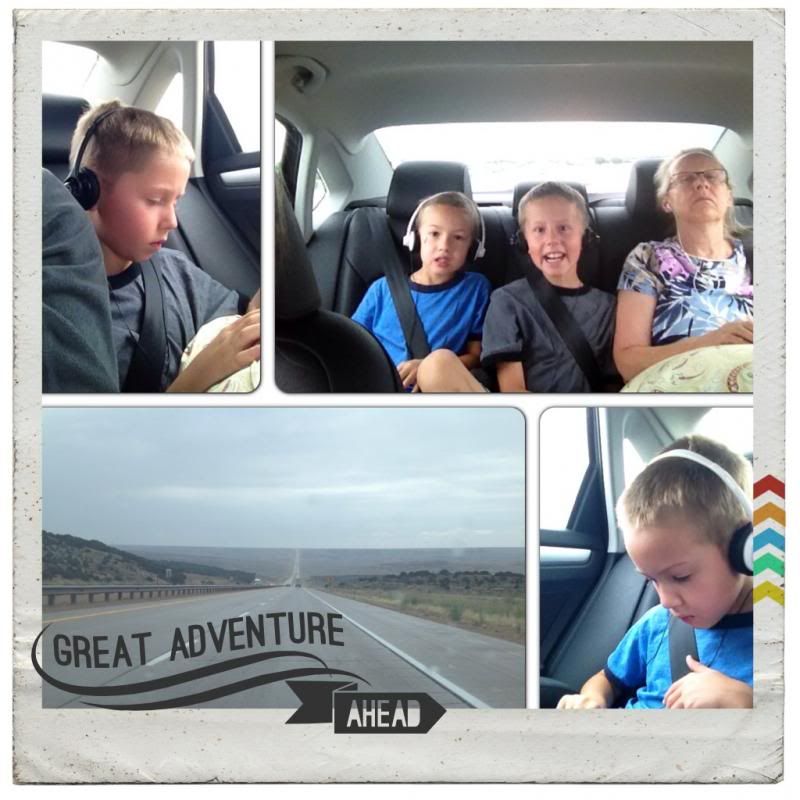 Day 1--Headed for South Dakota after meeting up with Opa and Oma in Boise, ID. We were originally heading to my Great Aunt Katherine to see her on her 105th birthday. We received the news that she had passed away on the night before we left (4 days before her birthday). Her funeral was to be on Monday and Day 1 was Saturday. We had to make fast tracks, so the first two days were long ones!
Day 2--We tried to make these long days fun, being silly and of course a stop at Cabela's!
Day 3--The funeral for my Great Aunt Katherine. We then visited Fedora, SD where my grandmother and great-aunt were born. We then went to the cemetary and saw a lot of family markers. The one above is for Reese's great-great grandparents for whom he is named. We also visited the Corn Palace in Mitchell, SD.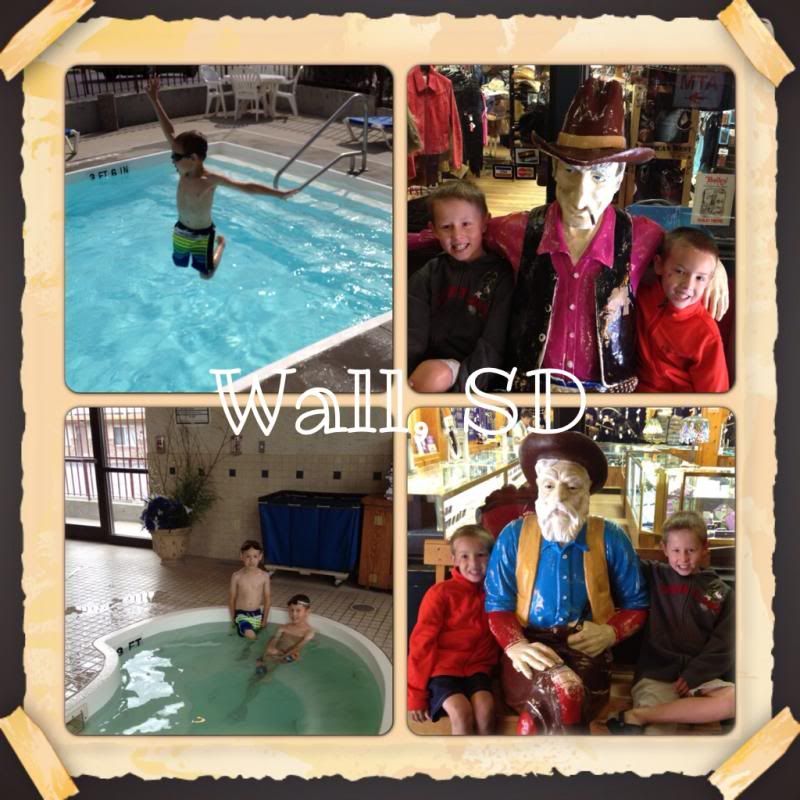 Day 4--Wall, SD!! We were early to check in this day, so the boys got a lot of swim time and we had to visit Wall Drug while there...
Day 5--Mt. Rushmore! Always stunning to visit this monument...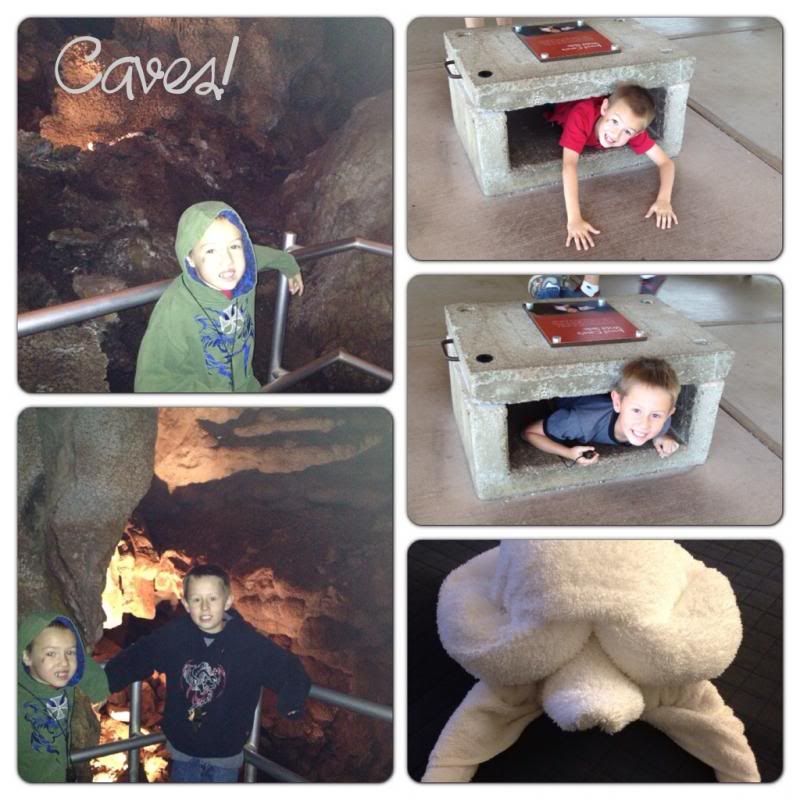 Day 6--We had an extra day tucked in, so we decided to visit Jewel Caves National Monument. It was great. The kids above are trying to fit into an example of the tightest squeezes on some of the cave tours. We opted for an easier tour! It was really amazing and cold down there! Back at the hotel we had a great housekeeper who taught us how to make towel animals--turtles, elephants, and swans. Fun!
Day 7--Another reason we made the trip was to attend my dad's 50th class reunion. The kids and I were the only 'young ones', but we had an enjoyable time in Glendive, MT. My dad enjoyed catching up with the others and we even made a connection with one classmate that lives in the town next to us!
Day 8--We went to a farmer's market before leaving Glendive and the kids found a basset hound to love on...
My dad wanted to show us his roots, so he took us to Froid, MT where he was from before Glendive. Fun little town. We met up with a cousin as well and had a good visit.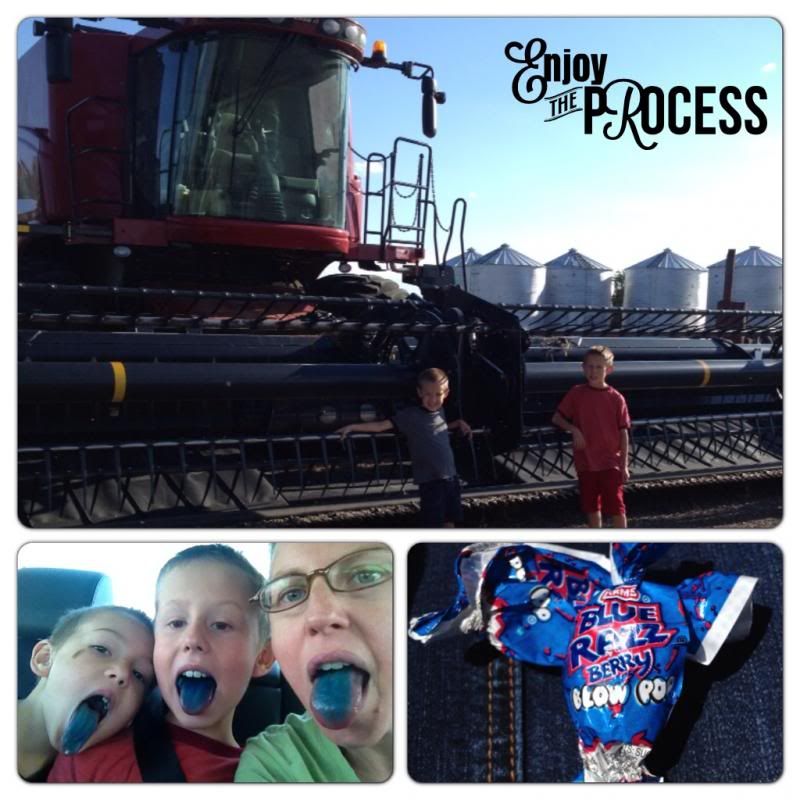 Day 9--Headed out to the farm where my dad's family is in Ethridge, MT. We had to have a little fun and some treats before getting there. And, then the combine that greeted us when we got there! Wow.
Day 10--The fun began this day. Reese got to drive Uncle Jr. around in the golf cart, Carsten got to go with cousin Miles in the semi-truck to make a delivery, and Carsten rode miles with cousin Jonathon on his dirt bike.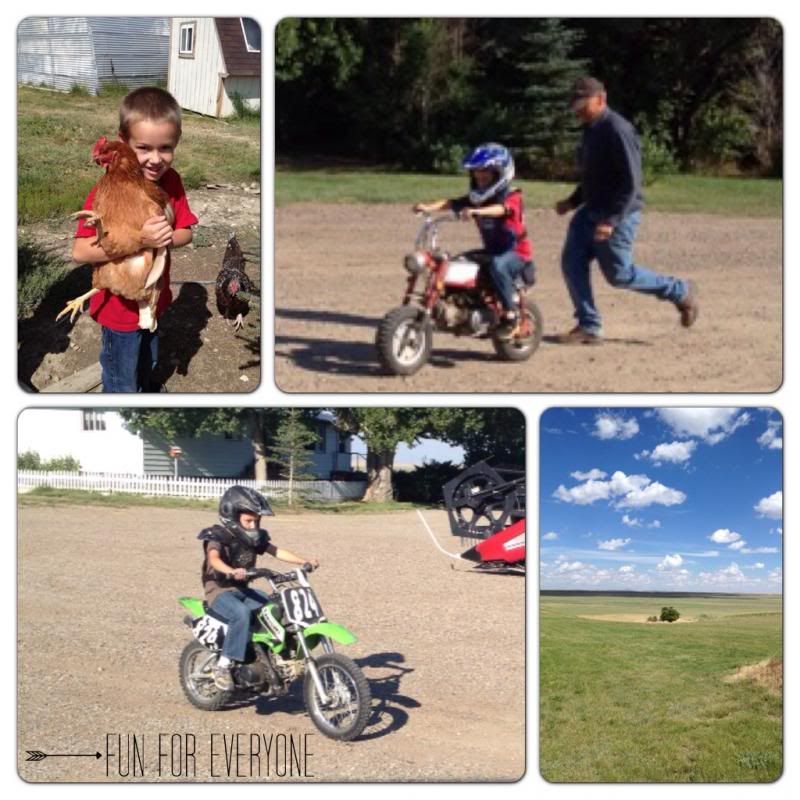 Day 11--Even more fun!! Cousin Miles decided the boys needed to ride their own dirt bikes... They loved it! Carsten also enjoyed catching chickens and holding them.
Day 12--We said our goodbyes and left for Glacier Park. It was perfect weather and a butterfly even landed on Carsten! We drove around and headed up the Going to the Sun Road for a ways. We went for a ranger talk on birds in the evening and it was both entertaining and informative.
Day 13--We spent this whole day in Glacier Park. We took the boat tour on McDonald Lake, went on a hike (Carsten met a buddy in the picture above and the two of them talked non-stop the whole hike), and wandered around Glacier--another beautiful day.
In the evening another cousin, Teresa, met us at our hotel and the kids all swam. Was great to meet her kids and catch up!
Day 14--Met Teresa and boys again for breakfast at a great little gluten free bakery in Kalispell, MT. The boys had fun seeing each other again. We then made our way to Ryan and Jeannie's in Sandpoint, ID. It was really great to meet Logan and see Lane and Morgan again and visit with the parents!!
Day 15--Last day on the road! All the way home...
We had a wonderful road trip thanks to Opa and Oma!!!
I should mention just for posterity's sake that we made this road trip in a VW Passat. Great gas mileage, a little tight on space. But, we made it!